Victoria is a truly wonderful spot for bringing people together: friends, family… potential romantic interest. It's a mere stone's throw from our dear Queen's humble living quarters is Victoria, and not only one of the capital's biggest transport hubs, but also home to a vast range of welcoming pubs, gorgeous bars and upmarket cocktail lounges.
There's no doubt about it: despite its reputation as a mere commuters' hub, Victoria is actually home to a great many secret nooks and saucy crannies tailor-made to tonight's hot date. You just need to know where to look, then prepare to wow your date with your superlative local knowledge of all the finest watering holes in the area!
So whether you and your date are in the mood for somewhere relaxing, bouncy or full-on olde-worlde, you're sure to find the perfect spot for a special first date.  Here are our top 5 first date venues in Victoria.
1. Vagabond
Unit 17, 77 Buckingham Palace Rd SW1W 0AJ
For many Londoners, Vagabond is everything they could ever dream of when they picture date night: enormous floor-to-ceiling windows, acres of natural light, and 140 fine wines ready for sipping, not to mention 10 exquisite draft beers for those who don't partake of the vino. And to soak up all these delectable beverages, be sure to indulge in the excellent sharing plates and delicious tapas-style dishes while enjoying the atmosphere around the central kitchen–bar table.
The bar is conveniently located right next to Victoria Station, so your date won't have far to walk when they get off the train and land eyes on you for the very first time as you nervously sip a cheeky shiraz for some good old-fashioned Dutch courage. And if the two of you are fans of people watching, make the most of Vagabond's outside area to share a glass and observe the thousands of commuters buzzing by.
2. Munich Cricket Club
1 Abbey Orchard St, SW1P 2LU
Go ahead and look up rambunctious in a dictionary, and you'll just find a photo of Munich Cricket Club—and the epic steins, raucous table dancing and sumptuous Bavarian cuisine therein. Munich Cricket Club is a proper German bierkeller, with myriad Deutsche beers on draught, groovy lederhosen galore, and a real-life oompah band playing Schlager covers of all your favourite singalongs, natürlich.
Pro tip: Now that's what we call a happy hour! Every day from 4 to 8, Munich Cricket Club offer 2-4-1s on all their cocktails, as well as on their big steins of refreshing Clubhaus!
Prepare to sample juicy bratwurst, spicy currywurst and savoury schnitzel around communal beer hall tables, and get ready for a right jolly knees-up with this exciting new stranger in your life!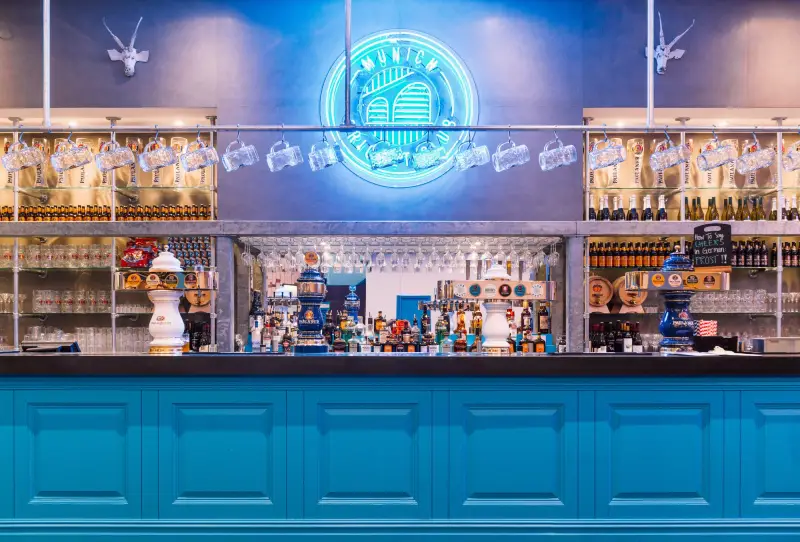 3. Wild by Tart
3–4 Eccleston Yards, SW1W 9AZ
A proud constituent of the newly refurbished Eccleston Yards, Wild by Tart is your quintessential neighbourhood eatery, a contemporary British establishment set in a 9,000ft2 multipurpose space comprising a bar, restaurant, coffee kiosk, events space, retail store and photography studio! Owners Lucy and Jemima's talented team of cooks dish up irresistible scratch-cooked meals using only the freshest, most organic locally sourced ingredients. The menu includes intriguing bites, sexy small plates and saucy desserts all packing big punches by virtue of their nationally sourced seasonal ingredients, and from the traditional wood-burning oven emerge sourdough pizzas topped with such delights as pickled chilli, confit tomato, taleggio, tarragon and spicy fennel sausage. And as for the bar, where to begin? There's a drinks list as long as your arm, and it's positively bursting with wines both modern and classic, not to mention speciality cocktails featuring innovative combinations of flavours.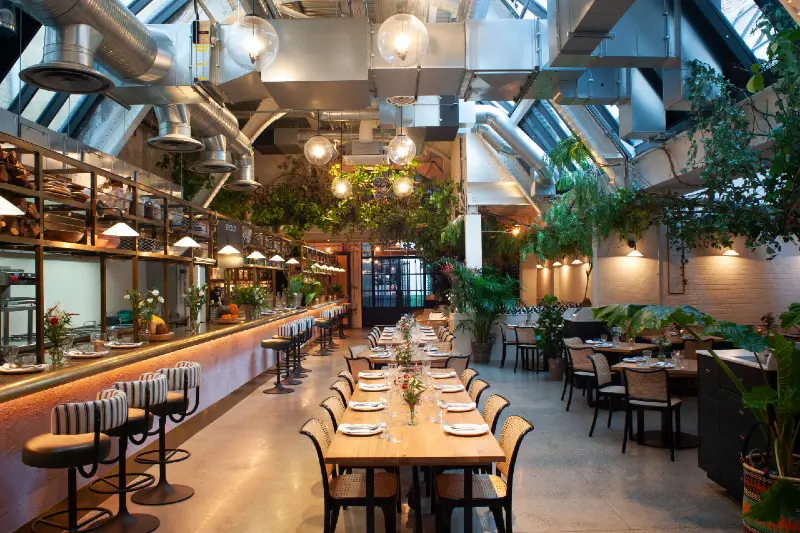 4. The Soak
Terminus Pl, SW1W 0RP
A plushly decorated Grade II–listed building right next door to Victoria Station, The Soak is an oasis amid the hustle and bustle of the London throngs. In the abounding natural light streaming in through gorgeous arched windows and bouncing off high ceilings, drool over a gourmet menu centring around pickling, fermenting and brining.
Amid the grandeur and history of all The Soak has inherited, stand at the astounding oval bar to browse a selection of world-class classic cocktails—best sipped in one of the venue's intimate booths to the backdrop of The Soak's regular live music. The funk gets real when the sun goes down, make no mistake about it. Immerse yourselves in The Soak for a gastro affair you won't forget in a hurry.
Top tip: Whether you're visiting The Soak for a tipple or a nibble, there's always time for a mixologically exceptional beverage or three. Among the bar's many outstanding cocktails, we probably most highly recommend the Zombie, traditionally served in a Tiki face cocktail glass, and whipped up using Wray and Nephew rum, Havana Club 7, Ron Zacapa 23, passionfruit purée, lime juice, angostura, pineapple juice and passion syrup.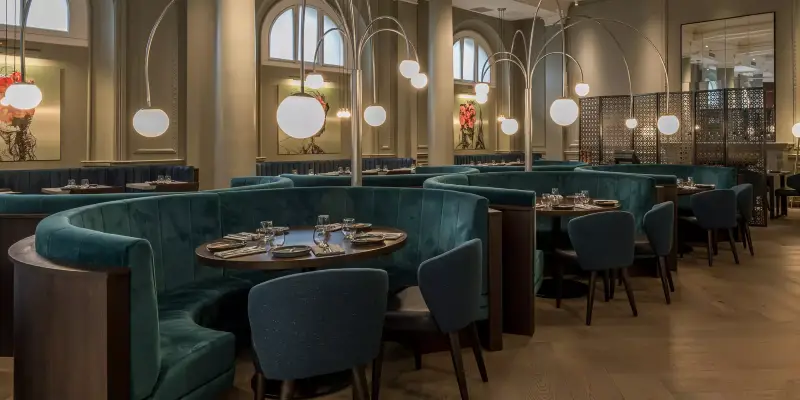 5. The Hari
20 Chesham Pl, SW1X 8HQ
If you and your beautiful date are in the mood for some stylish five-star al fresco sippin', well—The Hari's got you covered, friends. With a marvellous retractable roof for cocktails amid the London skyline, this swanky hotel bar is what we call a bona fide gem, perfect for an afternoon aperitivo, a long and lazy lunch or an evening rendezvous which segues unnoticed well into the small hours.
Only a short walk from such world-famous landmarks as Harrods, Hyde Park, the Royal Albert Hall and Buckingham Palace, The Hari is truly the venue for a Victoria first date like no other. And if your date's all about the environmentalism, here's a cheeky bonus point to slip into conversation for some kudos: The Hari are committed to achieving both social and environmental sustainability within the hotel, as well as in the bar itself, and they continually innovate all sorts of intriguing ways to give guests and patrons alike an experience that's both luxury and energy-conscious!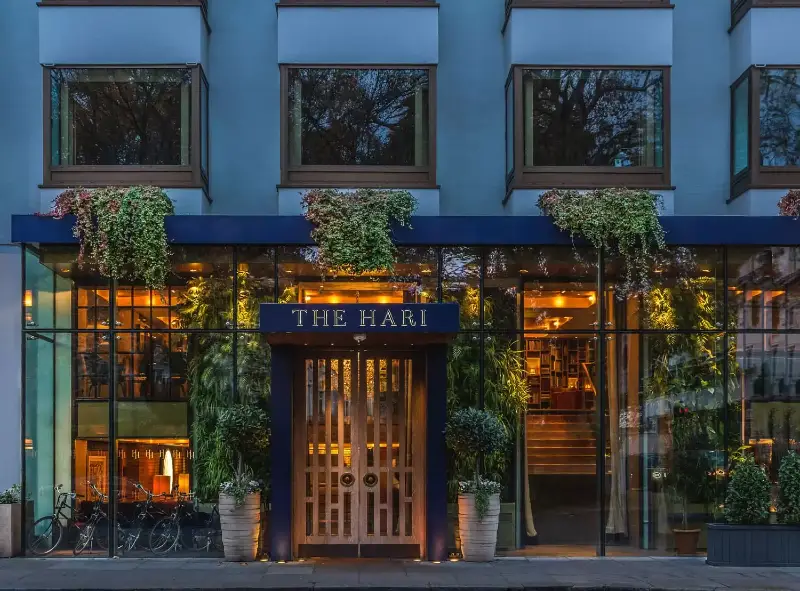 ---