We are thrilled to announce that Drawing Down the Moon has been awarded the international iDate award for "Best Matchmaker" once again.
This award was from the prestigious Idate awards and the ceremony took place in Miami. Radio Four has dubbed the iDate awards: "The industry equivalent of the Oscars" and is the biggest night of the year in the calendar. It's a huge celebration of the dating industry, highlighting the best and most innovative companies. With competition from prestigious matchmakers around the world, it is a huge honour to be recognised in this way.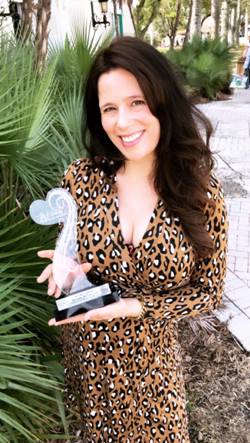 Gillian McCallum, the CEO of Drawing Down the Moon, was pronounced iDate's Best Matchmaker 2020. McCallum, who was recently described by the Daily Telegraph as "an impassioned advocate for the business of introducing lonely hearts", said,
"I am thrilled to accept this award on behalf of the entire team at Drawing Down the Moon. I'm lucky to work with people who are not only renowned as some of the most talented matchmakers in the business, but who work so incredibly hard to help their clients succeed in love."
Drawing Down the Moon has now won this award five years in a row, commencing in 2015 – which is an Idate record in itself. The awards are decided by public votes, which is a huge reflection of the faith that people have in the service that we provide.
At Drawing Down the Moon we act as head hunters, coaches and confidantes, drawing on over 35 years of expertise and discretion to assist our clients in making lasting connections. Three quarters of the people who come to us are recommended to us, and we are responsible for countless happy relationships, engagements, marriages and of course children!
If you would like the opportunity to work with Drawing Down the Moon, Best Matchmaker 2020, then we would love to hear from you.  Please press the apply button below and one of our award winning Matchmakers will get back to you to explain more.