London is one of the most romantic cities in the world and the perfect place to make the most of this Valentine's Day. Whether you are planning a first date or have been together in a relationship for a while, there are dozens of restaurants that you could visit for a romantic evening this Valentine's Day. In fact, there are so many fabulous options that we know it can be wonderfully difficult to decide where to go! To help, we have narrowed down the most romantic restaurants in London and are excited to bring you our top 10!
Midnight Apothecary – pretty Valentines Day spot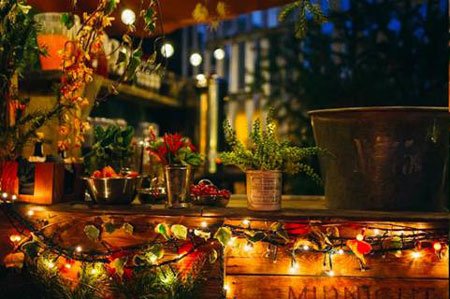 How do you like the sound of sitting in a rooftop garden and sipping something fabulous under the stars? That is exactly what you'll be doing if you take your date to the Midnight Apothecary. As the name may suggest, the Apothecary conjures up their cocktails using ingredients from their very own garden. You are likely to enjoy tastes you've never imagined with ingredients hand selected right in front of you. This is truly a unique experience, made all the better because it is on the rooftop of the Brunel Museum. For Valentine's Day they have some very special midwinter Valentine cocktails, deluxe hot rum toddies, sizzling hot food and more. Inside the underground Grand Entrance Hall there will be live music from the wonderful Nathan Osgood Trio, as well as a raging campfire to roast marshmallows and other grilled treats. This is great for an intimate, yet exciting, date night.
https://www.themidnightapothecary.co.uk
Valentines Cruise the perfect London Date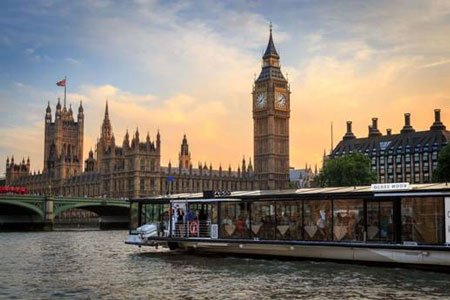 If you enjoy dinner on the move, the Bateaux London Valentine's Cruise may be a fantastic Valentines date night. You and your date will enjoy prosecco onboard, with a decadent meal served on rose covered tables. During the 2 hour romantic tour of London, you'll get to see various landmarks around the city all from a perspective you would never experience without the beauty of a view from the water.  How often do you get to take a date on a cruise? It's bound to be a wonderful evening as you take in the panoramic sights while being quiet and romantic enough to truly enjoy each other's company.
Little Nan's Bar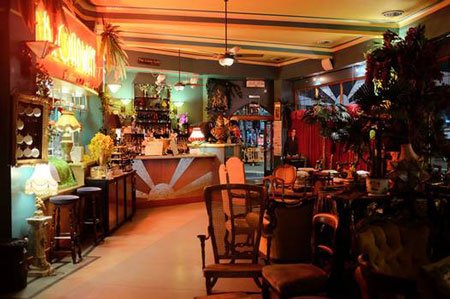 This selection on the list is a truly unique one when it comes to the Most Romantic Restaurants in London for Valentine's Day. Little Nan's Bar is a cute and quirky choice for anyone who wants to get away from the "mainstream" Valentine date ideas. At Little Nan's you'll be served cocktails in teapots and enjoy a bottomless pick n' mix selection of foods. You'll also enjoy a throwback to the 90's with the memorabilia all around the bar. The whole experience will be to the tune of classic 90's music as well. If you want to feel nostalgic, this is the place to go. Plus, providing you are old enough, you and your date can share your own stories from the 90's and relish in the memories. It's the perfect Valentine's treat if you want something just that little bit different.
Champor-Champor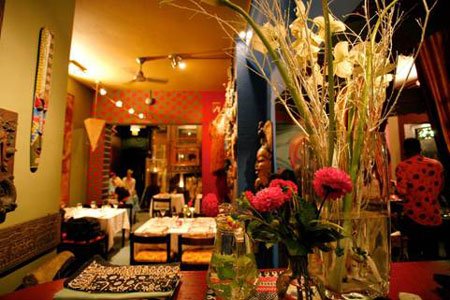 Champor-Champor is a very romantic Thai-Malay restaurant which is right next to the Shard. The phrase "champor-champor" means mix and match which describes the type of delicious food they offer. This Valentine's Day they have a special set menu with both Thai and Mayasian dishes for you to enjoy. It has a candlelit balcony, decorated with exotic artefacts, statues and silks. The decor is ever so slightly bohemian and will set the scene perfectly for your special day.
https://www.champor-champor.com
Fiume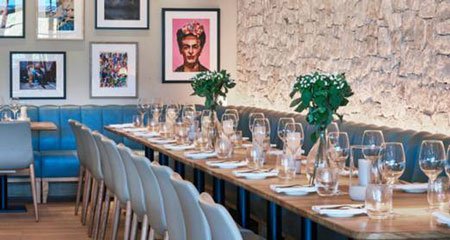 If you are a fan of Italian food, then a great choice for your Valentine's night will be this lovely restaurant. It has fantastic views overlooking the River Thames which explains the name – with Fiume being the Italian word for river. Decorated with olive trees and pots of lavender, it conjures up memories of the Italian Riviera. They will be offering a spectacular sharing menu around the Valentine's period for £50pp, which includes a selection of Mediterranean delicacies.
https://www.fiume-restaurant.co.uk
Clos Maggiore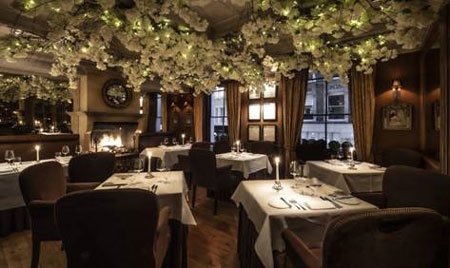 For those seeking the ultimate romantic hotspot, Clos Maggiore is continually voted the most romantic restaurant in the world. Set in the heart of Covent Garden. We've mentioned Clos Maggiore before as it's one of our personal favourites. The decoration is enchanting and the service is very attentive without getting in the way. Once described as "like eating inside a fairytale" your evening will be unforgettable and like no other. The food is exquisite and in February there is a fusion of candles, starlight and crackling fireplaces. What more could you ask for to help create a long lasting Valentines memory?
https://www.closmaggiore.com/about-us/
Shangri-La Hotel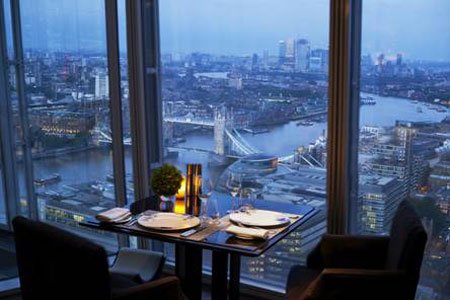 Home to no less than three different restaurants, it's possible to visit the Shangri-La Hotel and have a completely different experience each time. Located at the top of the Shard, you will enjoy the finest views of London's skyline. You can experience the exquisite afternoon tea at TĪNG or dine at GŎNG, the highest bar in London on level 52. Alternatively, try sunset cocktails and late-night drinks in chic surroundings at Bar 31. Each one is a great option for Valentine's Day.
https://www.the-shard.com/shangri-la/restaurants-bars/
Wherever you decide to go, remember that romance is all about your actions as well as the location you find yourself in. Choosing the most romantic restaurant in London for Valentine's day is important, but enjoying the company of someone you love, or would like to find out if you could fall in love with, is even more so. Happy Valentines Day!