Smart Dating Book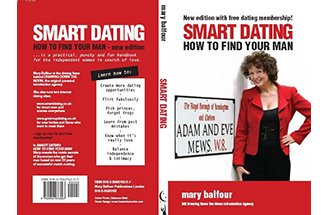 1st published by Harper Collins 2004
2nd updated edition, Mary Balfour Publications 2009
Read
Smart Dating: how to find your man
Mary's mission in Smart Dating is to help women find the love they seek
– without wasting precious time.
She explains how to be proactive and to create fabulous dating opportunities and relationships with or without dating agencies. Step-by-step prompts and workouts enable the reader to design an individual strategy for this right away.
Find out how to:
Compress a lifetime of dates into a few months
Learn Mary's Domino Dating effect
Turn first dates into second dates
Flirt fantastically
Pick princes, forget frogs
Avoid past mistakes
Overcome his fear of commitment
Balance independence and intimacy
Mary shares what she has learned from observation of intelligent and attractive women who have succeeded in finding their man. These women emerge as totally different in their approach to those who fail.
Their mind-sets, their strategies and their skills can all be learned and this is where Smart Dating: how to find your man comes into its own.
The dearth of commitment minded men and opportunities to meet them in today's society forms the background to the book. The message is that in spite of the break-up of the communities which facilitated introductions in the past, it is possible to take control of one's chances of love in today's more fragmented social milieu.
Good relationships, Mary suggests, are made not found.